Venetian Palace and Lagoon Culinary Cruise
Land Prices start at $6195 per person
What an intriguing way to enjoy the mystique of Venice and it's calm lagoon, as if from the past and far from mass tourism. A unique chance to embark on a privileged journey through one of the greatest historical and cultural regions of Italy, the Venetian Lagoon. Traveling with a specially adapted, traditional sail boat, we'll experience the very best gastronomy, and the genuine hospitality of our host, our impassioned captain and galley-master, who provides insight into the area, reflecting its historical and cultural essence. Dine on board and overnight in a private palace in a quiet corner of the city of Venice.
Tour Includes…
Enjoy cooking lessons on board which utilize the fresh catch and characteristic vegetables of the lagoon. Depending on the number of days you have for this tour, you can experience a gastronomic bounty; enjoy a romantic sunset dinner on board the specially adapted, historic Venetian fishing boat; visit the famous Rialto Market in Venice to shop for hands-on cooking lesson and lunch aboard the boat; visit an island known for it's regional vegetable-growing to choose the delectable produce imbued with a slight saltiness from the sea, for a vegetable cooking lesson on board. View the important walls that defend the Lagoon and city from the sea; Learn about the Venetian mask with the long nose, very common during Carnival.
This tour can be tailored for 1 to 8 days depending on the tour. Minimum of 4-6 guests up to 12 guests.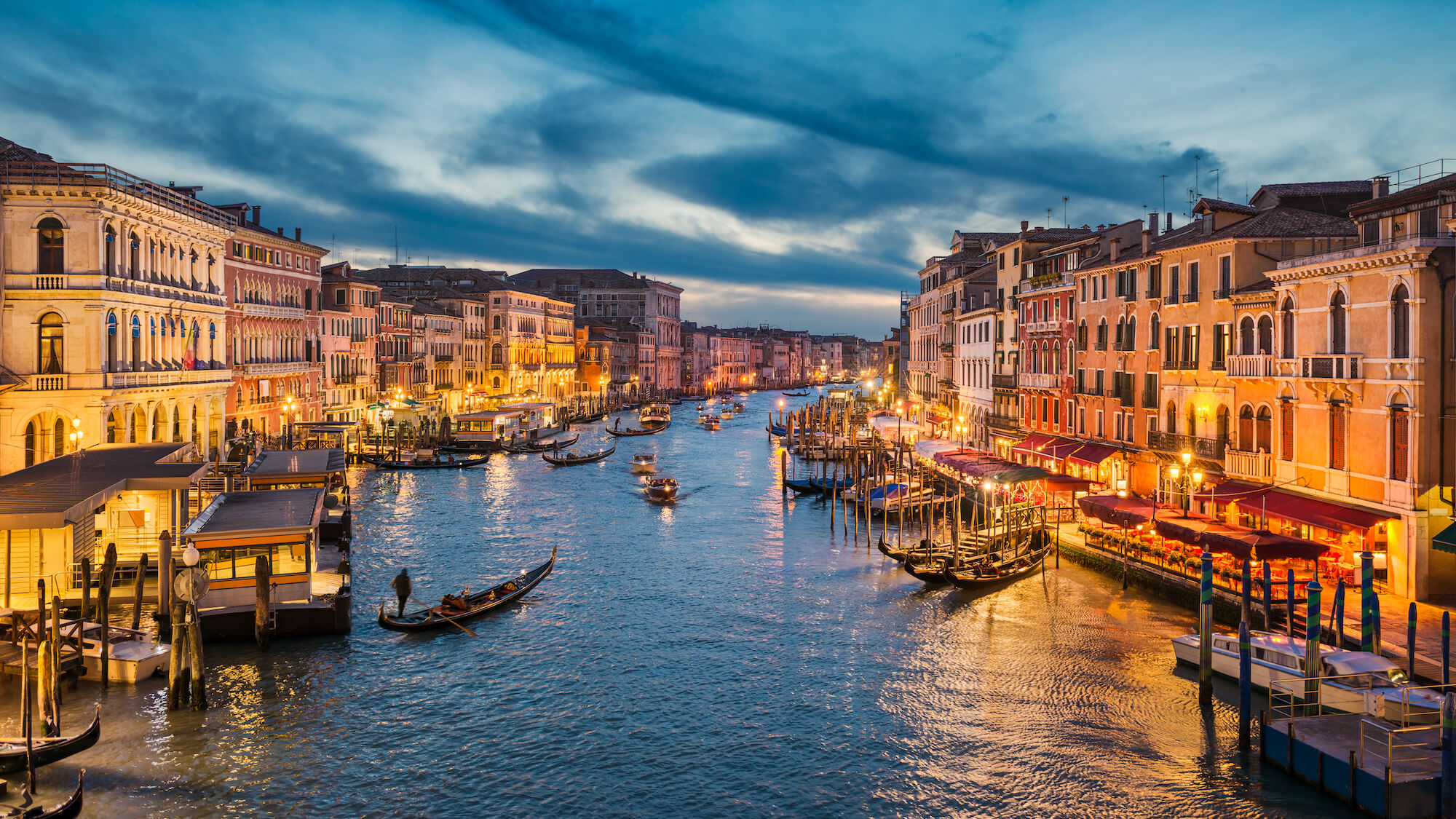 Imagine yourself…
Imagine Venice in an entirely new way, leaving a small footprint on the Venetian landscape. In Venice, possibility to enjoy a private visit to the famous 100 year old Fortuny fabric company to learn about the evolution of this magical artisanal work. There is also a possibility to enjoy a genteel cooking lesson from a countess at her beautiful palace on the Gran Canal. Our one-of-a-kind visit to the Venetian Lagoon, will leave it's stamp on your heart.
"A long table is set with silver cutlery and crystal glasses. Lunch is a long, lazy affair, and it is only when guests are dipping typical Venetian dessert biscuits in a glass of sweet Vin Santo, that the captain pulls up the anchor and begins the slow journey back to Venice, arriving at San Marco as the sun sets over the water."
– Orient Express Magazine
Plenty to Explore…
Perfect for a private group of friends. Travel in privileged style aboard a specially adapted, historic sailboat. Emphasis is on the culinary and cultural heritage of the Venetian Lagoon. The lagoon tour takes you to the quieter side of Venice, with your days spent on the sailboat, visiting the Venetian lagoon islands, and cooking, and dining on board. Your nights are spent at a hotel in a historic private palace in a quiet corner of the Castello district. If this is your first visit to Venice, we recommend adding some days before or after the cruise to visit the highlights of Venice.
Venetian Palace and Lagoon Culinary Cruise
Land prices start at $6195 per person
7 day/ 6-night deluxe gastronomic tour of Venetian Lagoon for 12-18 people
Begins and ends in Venice
6 Nights accommodations; 5 nights in a private palace in Castello, and 1 night in a secluded inn with Michelin Starred restaurant on the island of Mazzorbo; based on Double Occupancy
Breakfast, lunches, dinners as detailed in the itinerary
3 cooking lessons with meals on board
Hands-on cooking lesson taught by a countess in her beautiful palace on the Grand Canal, followed by lunch
Gala Farewell Dinner in private palace
The expert service of our boat captain who has sailed, fished and hunted the lagoon all his life
Round trip transfer from airport to hotel via water taxi or private boat
This tour can be arranged for shorter time frames.