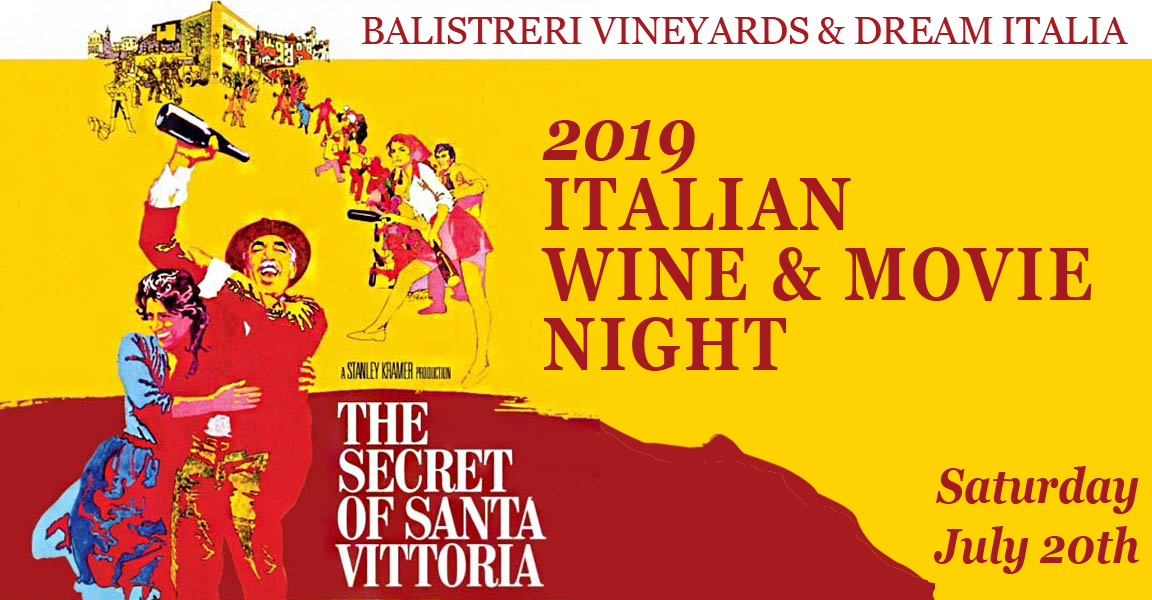 12th Annual Wine & Italian Movie Night
Dinner, Wine, & Italian Movie Night at Balistreri Vineyards
Join us for an evening under the stars with dinner, wine and a private screening of the classic 1969 film, The Secret of Santa Vittoria, starring Anthony Quinn, Anna Magnani and Virna Lisi at Balistreri Vineyards on Sat, July 20, 2019.
Dinner, Wine, and Italian Movie Night 2019
The Secret of Santa Vittoria (1969)
2 hrs 19mins. PG-13 
In Santa Vittoria, an Italian town renowned for its vineyards, the residents discover that the occupying Nazi troops plan to take all their wine for themselves. Determined to keep as many bottles as they can, the citizens, led by Mayor Italo Bombolini (Anthony Quinn), try to appease the Germans by offering them a generous number of cases and hiding the rest. Unfortunately, the Nazi leader, Captain Von Prum (Hardy Kruger), realizes that there is more wine, and becomes intent on finding it. – Fandango
---
Your friends at Dream Italia and Balistreri Vineyards would love to see you there!
Event Information:
Date: 
Saturday, July 20, 2019
Time: 
Movie Menu Food 6:30-9:00pm; Film begins at 9:00pm under the Tent
Location: 
Balistreri Vineyards- Outside Under the Tent
Ticket Includes:
Movie Menu Food, One glass of Balistreri Wine, and the Film Showing. Additional wine by the glass or bottle will be available for purchase. Tickets are non-refundable. The event will take place rain or shine.
Price:
$65 + tax/person
More Info: 
Call Balistreri Vineyards at 303-287-5156; Event will take place Rain or Shine; Tickets Non-Refundable.
This event is presented by Balistreri Vineyards & Dream Italia